Who doesn't want an ultimate companion for a beloved show? But, uh, there's a problem with this one, for Grimm. The book doesn't come out until March 2014. Seems kind of … delayed. Or slow. Or maybe short-sighted is a better word. Or maybe there's something in the book that can't be there until the show has aired most of season 3. Or maybe they know something we don't and the series is almost over and this will be the final word on all the Grimm goodness to be found on ABC this season.
Or maybe I'm stretching, like a short person for the toilet paper in Walmart (could it really get any higher up on the shelves?). It just seems to me that the best time to release something like this is when the series is just getting started with a new season. I mean, I believe there'll be another season to come after this one, but the reality is, it isn't guaranteed, at least as far as I know it's not. Then again, maybe I don't know a lot. Except that I'm short, and that Walmart hates short people. Thank God for Amazon.
So, here it is anyway. Just remember, you can pre-order if you want, but that's going to be one long wait…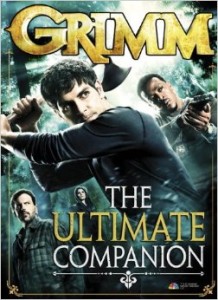 The book claims to be a 176 page paperback and it certainly does have a pretty cover. I might buy it just for that. Not that the picture is anything special (seriously, it's the same one used on the comic book unless it gets changed), but just the way it's put together with the title and the flourishes. Like I said, it's pretty.
A full behind-the-scenes guide to the show, from costumes to special effects to make up and more, with exclusive production designs and images direct from the ABC studios!

Acclaimed show runners David Greenwalt and Jim Kouf reveal all about the development and ongoing creation of the show.

Read interviews with the entire cast of the show, including David Giuntoli (lead character Nick), Silas Weir Mitchell (Monroe), Bitsie Tulloch (Juliette Silverton) and more!
Links:
Available from the publisher at Penguin Random House