Hostile Ground by Sally Malcolm and Laura Harper
Stargate SG1-25: Hostile Ground (Apocalypse Series, #1) by Sally Malcolm and Laura Harper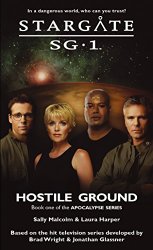 The description from Amazon.com.
In this first book in the Apocalypse Series, authors Sally Malcolm (SG1: Cost of Honor and Matter of Honor and SGA: Rising) and Laura Harper (co-author of SG1: Sunrise with Sally Malcolm – under the name JF Crane) take SG-1 on a journey to hell – and only time will tell if they can come back.

Watch your step…

It was meant to be an easy mission, a walk in the park. But SG-1's first trip off-world after Colonel O'Neill's return from Edora (STARGATE SG-1: One Hundred Days) proves to be anything but easy.

Tapped for a covert assignment, O'Neill must conceal the truth from his team at all costs. So when Dr Daniel Jackson is injured and the mission begins to go awry, tensions quickly reach a breaking point. Stranded on a hostile planet, and desperate to find a way home before it's too late, O'Neill leads his fractured team on a desperate journey across a barren and forsaken world.

Faced with an enemy more vicious than anything they've encountered before, only SG-1's strength as a unit will keep them alive — if the secret O'Neill is hiding doesn't tear them apart first…
Buy this book at Amazon: Buy this book!
There's also the complete list of the Stargate SG-1 and Stargate Atlantis books.