The Walking Dead is about the survivors of a zombie apocalypse. Led by police officer Rick Grimes, a group of survivors travel around looking for a safe and secure home–but don't really have a lot of luck finding one.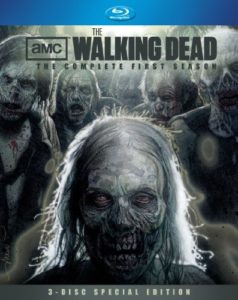 These new special edition sets for season 1 have seriously more awesome covers than the original, although it's certainly spooky in its own way with the lone man on an empty road into Atlanta. (A road I have traveled several times and which now creeps me out when I think about it a little too hard!)
The Walking Dead News & Content
Recent News about The Walking Dead
Although there's more news for The Walking Dead than is listed here, I only post news that I find interesting and important. Link suggestions are welcome but there are no guarantees I'll post them.
The Walking Dead Memorabilia
There's a board game for The Walking Dead that I cam across recently and a 2012 calendar. It's a little late for the calendar, but frankly, I don't think most of us buy this stuff for its usefulness, do we?
Finally, I came across The Walking Dead soundtrack and visited Bear McCreary's website, where the guy behind The Walking Dead music talks about his composition choices for each episode and the show as a whole–a site you should definitely visit. This is the same person behind the Eureka music and soundtrack, and it's fantastic.
The Show
The Walking Dead begins with police officer Rick Grimes waking in an abandoned hospital from a coma, to discover the world changed beyond imagining. A viral outbreak has created zombies from the dead and they're eating the living. He leads a group of survivors on a search for his missing wife and son and a safe and secure home where they can escape the zombies stalking them at every turn.
The Characters & Cast
Rick Grimes (Andrew Lincoln)
Shane Walsh (Jon Bernthal)
Andrea (Laurie Holden)
Lori Grimes (Sarah Wayne Callies)
Amy (Emma Bell)
Carl Grimes (Chandler Riggs)
Daryl Dixon (Norman Reedus)
Dale (Jeffrey Demunn)
Glenn (Steven Yeun)
T-dog (Irone Singleton)
Carol Peletier (Melissa McBride)
Sophia Peletier (Madison Lintz)
Morgan (Lennie James)
The Walking Dead Episodes
The Walking Dead Season 1 Episode List
Days Gone Bye
Guts
Tell It To The Frogs
Vatos
Wildfire
TS-19
The Walking Dead Season 2 Episode List
What Lies Ahead
Bloodletting
Save the Last One
The Walking Dead Season 3 Episode List
Coming next year.